07/07/14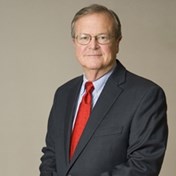 We are deeply saddened to announce that Ross C. Reeves, a partner at Willcox Savage, passed away on July 3, 2014. He was an integral part of the firm since arriving in 1982.
Ross was multi-faceted in the practice of law as a transactional attorney and as a litigator, before focusing principally on bankruptcy and creditors' rights in recent years.
Ross was always the consummate tactician and yet never lost sight of the big picture. He was viewed as one of the preeminent members of the bankruptcy bar, with a reputation that extended nationally.
"We will miss his brilliant intellect and incisive wit. He was a great partner," said Rob Dewey, Willcox Savage Managing Partner.