Tim is a member of the firm and practices in its Corporate, Securities, and Finance Section, where he heads the Intellectual Property Group. Tim concentrates his practice on trademark and copyright counseling, registration, and enforcement; trade secret protection; e-commerce and other web-related issues; patent and software licensing; technology agreements; and intellectual property litigation. He served as Chair of the Board of Governors of the Virginia State Bar's Intellectual Property Section for the July 2018 - June 2019 Board term.
Tim works with outside patent counsel on patent protection for clients' inventions. He performs due-diligence reviews in connection with merger-and-acquisition transactions and counsels clients regarding noncompetition, nondisclosure, and other employment issues. 
In 2017 Tim was elected to the Board of Directors of the General Douglas MacArthur Foundation, which operates the MacArthur Memorial and its associated museum in Norfolk, Virginia. The U.S. Secretary of Commerce appointed Tim to serve two terms (2008-2011 and 2014-2017) on the Trademark Public Advisory Committee of the U.S. Patent and Trademark Office. From 2010 to 2018 he served on the Board of Trustees of the Old Dominion University Research Foundation. In addition, he previously served on the boards of the Cultural Alliance of Greater Hampton Roads, Technology Hampton Roads, and the Tidewater Chinese School. Tim has chaired or co-chaired the Association News Subcommittee, the Features Subcommittee, and the U.S. & Canada Law & Practice Subcommittee of the International Trademark Association's Bulletins Committee, of which he is currently a member.
A member of the Bars of Virginia and the District of Columbia, Tim is admitted to practice before several federal district and appellate courts, including the Eastern District of Virginia, the Fourth Circuit, the Federal Circuit, and the U.S. Supreme Court. He frequently publishes articles and teaches seminars on developments in U.S. and international copyright and trademark law.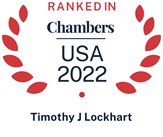 Education

J.D., Georgetown University, cum laude, 1990
M.A., Auburn University, 1984
B.A., Auburn University, cum laude, 1977

Professional Recognition

AV Peer Review Rating by LexisNexis Martindale-Hubbell
Chambers USA: America's Leading Lawyers for Intellectual Property

Memberships

Virginia State Bar, IP Section
District of Columbia Bar Association, IP Section
International Trademark Association
Experience
Handled over 500 federal and state trademark applications and registrations, including maintenance and renewals, covering a wide variety of goods and services.
Prepared and negotiated all types of intellectual property licensing agreements, including software and other copyright agreements, merchandising and other trademark agreements, and patent and other technology agreements.
Represented major authentication-management company in negotiating and drafting complex agreements for the licensing and development of biometric identification technology.
Represented web-based fleet-management company in negotiating and drafting complex agreements for local and remote control of large inventories of capital equipment such as forklifts.
Planned, developed, and implemented a comprehensive program for protecting the intellectual property, including patents, of a start-up provider of high-technology design and manufacturing services.
Represented high-speed Internet access company in negotiating and drafting multi-party agreements for assignment of over 35 contracts for vendor-supplied telecommunications circuits.
Led a team of five lawyers and two legal assistants in performing a comprehensive due-diligence review of all of a major New York publisher's intellectual property assets, including copyrights, trademarks, and author agreements.
Reviewed and revised all intellectual property agreements associated with multimillion-dollar investment by major venture capital firm in online recruiting service.
Led large teams of lawyers and legal assistants responsible for registering and enforcing sports-related copyrights and trademarks, including planning, coordinating, and conducting "John Doe" seizures at stadiums and other locations.
Participated in litigating a variety of intellectual property matters, including copyright and trademark cases brought in federal courts.
  
tlockhart@wilsav.com
Timothy J.
Lockhart
Member
Willcox & Savage, P.C.
(757) 628-5582
(757) 628-5566
https://www.willcoxsavage.com/media/1366/timothy-lockhart-intellectual-property-lawyer-willcox-savage.jpg?anchor=center&mode=crop&width=175&height=175&rnd=131124666110000000