Tom practices both in the Commercial Real Estate Group and the Corporate Group and serves as Chairman of the firm.
In his real estate practice, Tom represents real estate developers, lenders, large private landowners and others on development projects, loans, workouts and restructures, financing transactions, joint ventures, acquisition and development and purchase and sale of commercial real estate properties of every type.
His corporate practice focuses on the representation of companies with regard to corporate governance, corporate finance, including private securities offerings, purchase and sale of businesses and mergers and joint ventures. Tom's experience includes the representation of American subsidiaries of large foreign manufacturers.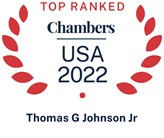 Practice Areas
Education

L.L.B., University of Virginia, 1969
B.A., University of Virginia, 1964

Professional Recognition

AV Peer Review Rating by LexisNexis Martindale-Hubbell
Memberships

Virginia State Bar

American Bar Association

Fellow, Virginia Law Foundation

Leadership

Norfolk School Board: former Member (1976-1990); Chairman (1981-90)
Experience
Commercial Real Estate
Represented NYSE REIT in connection with acquisition and development of 350,000 sq.ft. GLA premium outlet center including extensive infrastructural and economic grant agreements with Norfolk Economic Development Authority.
Represented developer in major public-private partnership with City of Norfolk for a $171 million mixed use project anchored by 22-story office tower containing 250,000 square feet of office space, 50,000 square feet of retail space, 120 apartments and 1,900 parking spaces in two public garages in downtown Norfolk. Project supported by private financing for the office building, retail and residential space and municipal financing for the public parking garages, and included redesign and relocation of municipal and private utility systems serving the mixed use project, including negotiation of comprehensive development agreement addressing all design, construction, insurance and financial requirements of the project.
Represented acquirer of 800+ unit multi-family residential development, including $55+ million first mortgage and $8 million mezzanine financing.
Represented regional real estate developer in connection with the acquisition and development of a 275,000+ square foot shopping center in Williamsburg/James City County area, including negotiation of the site acquisition contract.
Represented developer in formation of joint venture with land owner to develop 280+ unit apartment project to be funded by HUD loan, including structuring joint venture and preparation of Contribution Agreement and definitive Joint Venture Operating Agreement.
Represented developer in formation of joint venture with financial investor to develop 400+ apartment unit project in Richmond, Virginia including structuring joint venture and preparation of definitive joint venture operating agreement.
Represented developer in purchase of defaulted note secured by deed of trust on additional land subject to a condominium regime and coordinated subsequent foreclosure to obtain additional land for multifamily residential development.
Represented private investor in loan secured by note and security deeds in multiple states.
Represented developer in the formation of a joint venture with land owner and subsequent development of 175,000+ square foot shopping center, including negotiating ground lease and space leases with national anchor tenants.
Advised a Fortune 500 company on the development of 60± acre tract for mixed-use project in Alexandria, Virginia, including disposition of tract for future 2.5 million square foot headquarters for USPTO.
Represented owner of large undeveloped tracts adjacent to major metropolitan area in transactions with developers in which owner retained substantial portion of property for subsequent commercial development, including infrastructure development agreements and reciprocal operating and use agreement regarding adjoining tracts.
Represented numerous owners of real estate in connection with sale and acquisition of replacement property in like-kind exchange transactions qualifying under Section 1031 of Internal Revenue Code, including installment sale transactions.
Represented developer of multiple sites for national retailer in Hampton Roads and elsewhere including assemblage and development of sites and sale of completed properties to national investors.
Advised partner in contested dissolution and wind up of real estate holding partnership with multiple real estate assets.
Corporate
Coordinated firm representation in sale of ESOP owned ship modernization/repair company headquartered in Hampton Roads to Fortune 500 buyer. Transaction encompassed ESOP trustee and board guidance, due diligence assistance, negotiation and closing of definitive stock purchase agreement.
Represented a construction equipment rental company in the formation of a joint venture for a national construction equipment rental company.
Coordinated firm representation in acquisition of majority interest of mechanical subcontractor including preparation of operating agreement of acquisition and restructuring target so transaction qualified as a sale of assets for tax purposes.
tjohnson@wilsav.com
Thomas G.
Johnson, Jr.
Member / Chairman
Willcox & Savage, P.C.
(757) 628-5548
(757) 628-5566
https://www.willcoxsavage.com/media/1472/thomas-johnson-real-estate-lawyer-willcox-savage.jpg?anchor=center&mode=crop&width=175&height=175&rnd=131133326020000000