07/22/21
NEW SMALL-CLAIMS OPTION FOR DEALING WITH COPYRIGHT INFRINGEMENT
On December 27, 2020, the U.S. "Copyright Alternative in Small-Claims Enforcement Act of 2019" (CASE Act) became law. The CASE Act, codified at 17 U.S.C. §§ 1506(a)-(aa), provides copyright owners with an important and valuable new way of enforcing their copyrights without having to resort to litigation in federal court. Instead, such owners will be able to bring their cases within the U.S. Copyright Office before a three-person tribunal called the "Copyright Claims Board" (CCB) that will function something like a small-claims court.
Previously, owners of copyrights infringed before the rights were registered could obtain only their actual damages. Even owners who registered their copyright before the rights were infringed might obtain relatively low statutory damages (although they generally were entitled to recover attorneys' fees). The result was that in many cases where infringed copyrights were of relatively low monetary value, their owners were reluctant to sue for infringement even if they could find attorneys willing to take their cases. Now such owners have an optional but more cost-effective venue for bringing infringement claims.
The CASE Act permits two other types of copyright claims. First, users of copyrighted works can ask the CCB to issue declarations of noninfringement stating that their activities are protected by the fair-use doctrine of U.S. copyright law. Second, entities that receive take-down notices under the Digital Millennium Copyright Act (DMCA) can challenge such notices on the grounds that they contain misrepresentations about the allegedly infringing activity. And copyright owners who send DMCA take-down notices and receive counternotices can challenge the counternotices on the grounds that they contains misrepresentations about copyrighted material that was removed pursuant to the take-down notices.
The Librarian of Congress will appoint the CCB "judges," who will be known as CCB officers. Two of the three CCB officers must be lawyers with substantial experience in copyright-infringement matters. This requirement should help to ensure that CCB officers are, unlike some federal judges in courts that hear few copyright cases, subject-matter experts with regard to U.S. copyright law.
Copyright Office regulations will set the exact cost of bringing a claim before the CCB, but the CASE Act specifies that the cost must be at least $100 and no more than the cost of filing a copyright claim in federal court. A defendant may opt out of participating in a CCB proceeding, in which case the proceeding is terminated. But the Act provides financial incentives for not opting out, including limiting the total amount of damages that may be awarded in any case to $30,000 and capping statutory damages at $15,000 instead of the $150,000 permitted in federal court.  Also, a CCB proceeding is likely to go much faster than a federal lawsuit, meaning that a CCB plaintiff will probably have lower attorneys' fees than if bringing a copyright claim in federal court.
The CASE Act has several provisions to discourage bad-faith claims, counterclaims, and defenses. First, the CCB can dismiss frivolous claims. Second, the CCB can award up to $5,000 in attorneys' fees to victims of bad-faith claims and potentially higher attorneys' fees in "extraordinary circumstances" such as where there is a pattern or practice of such claims. (Unlike the Copyright Act itself, the CASE Act does not entitle successful parties to recover their attorneys' fees.) Third, the CCB can prohibit a bad-faith entity from filing another CCB case for a year and can even dismiss all pending cases filed by that entity.
At present it is unclear exactly when the CCB will begin operating. The CASE Act requires that the CCB begin within one year after the Act became law, which would be, at the latest, December 27, 2021. But the Act also provides for a six-month extension if required by the COVID-19 pandemic or another significant obstacle, meaning that the CCB might not begin operating until the end of June 2022.
Once the CCB does begin its operations, copyright owners who think that their copyrights may have been infringed should consider bringing their claims there, especially if the actual or statutory damages available in federal court are likely to be relatively low. Also, users of third-party copyrighted material and entities that send or receive DMCA take-down notices should be prepared to respond to claims filed with the CCB. As they work through the pros and cons of appearing before the CCB, all such parties that have questions about this new copyright venue and its rules and procedures should consult experienced copyright counsel for advice.
JUDGMENT SQUEEZED OUT IN BOTTLED CONDIMENT CASE
As Published in the INTA Bulletin on June 16, 2021
In a spicy but tasteful opinion discussing a condiment concoction sold in a motel next to a used-car lot, the U.S. Court of Appeals for the Fifth Circuit held on April 12, 2021, that the district court erred by granting summary judgment on the defendant's counterclaim to cancel an incontestable trademark registration for METCHUP. Perry v. H. J. Heinz Company Brands, L.L.C., 994 F.3d 466 (5th Cir. 2021).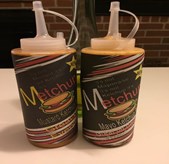 Dennis Perry makes Metchup from Walmart-brand mayonnaise and ketchup (or sometimes mustard and ketchup) and sells it exclusively from the lobby of his nine-room motel in Lacombe, Louisiana. Since 2010, Mr. Perry has sold only 50 to 60 bottles of METCHUP, resulting in sales of about $170. He registered METCHUP (Reg. No. 3920035, Class 30) with the U.S. Patent and Trademark Office in 2011, and the registration became incontestable in 2018.
Heinz began marketing Mayochup, a mayonnaise-ketchup mixture, in the Middle East in 2016 and brought the product to the United States in 2018. Heinz held a contest to name the product, and consumers suggested SAUCY MCSAUCEFACE as well as less fanciful names such as METCHUP. Heinz created a METCHUP mock-up but never sold any product under the METCHUP mark.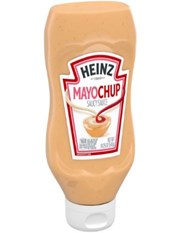 After learning of Heinz's use of MAYOCHUP and proposed use of METCHUP, Mr. Perry sued Heinz for trademark infringement. Because of Mr. Perry's low sales, the significant differences in the labels for the parties' respective products, and the complete lack of any actual confusion, the district court found that Heinz's use of MAYOCHUP did not cause a likelihood of confusion. The court also found that Mr. Perry had abandoned his mark, partly because he had "failed to produce any evidence to show any sales of METCHUP-branded products outside of Louisiana or to non-Louisiana residents."
The court of appeals disagreed, noting that Mr. Perry testified he sold METCHUP to motel guests who came from "all over the place." The court said that Heinz had the burden to prove otherwise but had not "put forth evidence that discredit[ed] Mr. Perry's testimony." The court noted that "seemingly de minimis intrastate activities can influence interstate commerce, be regulated by Congress, and thus count as uses in commerce for purposes of the Lanham Act" (citing Christian Faith Fellowship Church v. adidas AG, 841 F.3d 986, 995 (Fed. Cir. 2016)) (other citation omitted). Heinz did not show, the court said, why the reasoning from Christian Faith Fellowship would fail to apply in this instance. Because Mr. Perry's "efforts could also be seen as a foundering business venture rather than a trademark trap," the court remanded the case for further proceedings to address whether Mr. Perry had made bona fide use of the METCHUP mark.