07/21/23
UNITED STATES: Hermès Wins Jury Verdict in Infringement Claim Against METABIRKINS NFTs
As appeared in the June 7 INTA Bulletin
A jury found for fashion company Hermès, owner of the trademark BIRKIN for luxury handbags, in its infringement suit against Mason Rothschild for his use of METABIRKINS in selling non-fungible tokens (NFTs) that display BIRKIN bags. Hermès International v. Rothschild, Case 1:22-cv-00384 (S.D.N.Y. Feb. 8, 2023). Created in 1984, BIRKIN bags were inspired by actress Jane Birkin.
According to the complaint: "The 'digital commodities' upon which [Mr. Rothschild] is building his business, NFTs, are unique and non-fungible (i.e., non-interchangeable) units of data stored on a blockchain just as cryptocurrencies (which are fungible) are stored on a blockchain."
Hermès alleged that: "NFTs can be created to transfer ownership of any physical thing or digital media, including an actual handbag or the image of a handbag. NFTs can also be freely bought and sold like any other commodity. As with cryptocurrencies, a highly speculative market has emerged around the trading of NFTs."
Hermès claimed that Mr. Rothschild "has openly acknowledged that he elected to sell his NFTs as METABIRKINS because a BIRKIN handbag is a highly valuable asset in the physical world." Mr. Rothschild moved to dismiss, arguing that "Hermès asks this Court to suppress [his] art and to restrain his protected speech in the service of protecting Hermès'[s] commercial interest in its trademarks." Mr. Rothschild claimed that his METABIRKINS art "comments on the animal cruelty inherent in Hermès'[s] manufacture of its ultra-expensive leather handbags."
The case proceeded to a jury trial. The court held that because "the digital images associated with the [METABIRKINS] NFTs 'could constitute a form of artistic expression,'" the Rogers v. Grimaldi test for artistic works, under which an artistic work can infringe a trademark if it is devoid of artistic significance or misleading about the work's source, applies. Rogers v. Grimaldi, 875 F.2d 994 (2d Cir. 1989).
Despite that victory for Mr. Rothschild, the jury found for Hermès on all counts, awarding it US $133,000 in damages and finding that the First Amendment did not bar liability on Mr. Rothschild's part.
Mr. Rothschild has said that he will appeal (although no appeal had been filed as of June 13, 2023). The outcome of any such appeal may be influenced by the Supreme Court's decisions in the JACK DANIEL'S/BAD SPANIELS trademark case, Jack Daniel's Properties, Inc. v. VIP Products LLC, 2023 WL 3872519 (June 8, 2023), and the Andy Warhol/Lynn Goldsmith copyright case, Andy Warhol Foundation for Visual Arts, Inc. v. Goldsmith, 143 S. Ct. 1258 (2023).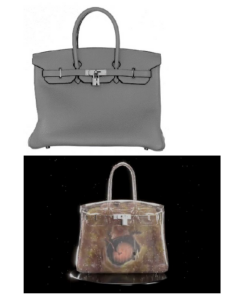 BIRKIN bag (top) and METABIRKIN NFT (bottom)
United States: "Moechella" Strikes the Wrong Chord
As appeared in the June 21 INTA Bulletin
The Coachella music festival has sued two organizers of the "Moechella" series of go-go concerts in Washington, D.C., for trademark infringement. Coachella Music Festival, LLC v. Johnson, case 1:23-cv-00288-RBW (D.D.C. Feb. 1, 2023).
As reported in The Washington Post on February 4, 2023, the suit alleges (1) that Justin "Yaddiya" Johnson and Kelsye Adams are intentionally trading on the goodwill of the Coachella name and creating confusion by suggesting a nonexistent affiliation between Coachella and Moechella; and (2) that Coachella's reputation was harmed by a shooting at the Moechella Juneteenth concert in 2022, when a boy was killed and three people were injured.
According to the complaint, the defendants use a MOECHELLA logo in which the word portion is "strikingly similar" to the stylized COACHELLA word mark. The complaint seeks the following:
An injunction against the defendants' use of the MOECHELLA word mark and logo;
The defendants' profits from using their MOECHELLA marks; and
Punitive damages, attorney fees, and compensation for "corrective advertising."
The well-known Coachella music festival generates hundreds of millions of dollars annually from performances by famous musicians. According to The Washington Post, "tickets for this year's festival started at US $500." In contrast, Moechella "started as a protest in defense of a Metro PCS store that has blasted go-go music, a D.C. spin on funk music, onto a busy [Washington, D.C.,] intersection for two decades." Demonstrations in support of that practice led to an annual Moechella concert "along with a Million Moe March—both riffs on D.C. slang that means something close to 'bro'."
In 2022, Coachella filed a suit against a Ghanaian music festival in California called "Afrochella," dropping it after that festival's organizers agreed to change its name to "Afrofuture." According to The Washington Post, the defendant, Mr. Johnson, says that, although he is trying to fight Coachella's suit, he is also asking go-go fans to come up with a new name. As of June 1, various motions had been filed in the case, but the defendants had not yet filed an answer.
Defendant Johnson claims that Moechella is just "a fun parody" that sprang up during the pro-go-go demonstrations. It is interesting to note that, as The Washington Post reports, "[g]o-go itself is known for reworking existing intellectual property—pop songs—with the genre's distinctively syncopated conga and timbale rhythms." The Coachella suit illustrates that there is often a fine line between infringement and parody, and that one's view of the situation depends on which side of that line one stands.


Plaintiffs' stylized mark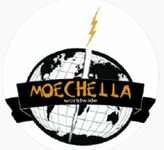 Defendants' stylized mark