03/11/13
IN THIS ISSUE
Yankees Hit Home Run Against "Baseball's Evil Empire"
Marine Shipping: A Growing Industry Going Green
 
Yankees Hit Home Run Against "Baseball's Evil Empire"

Timothy J. Lockhart
 
Just in time for spring training, the U.S. Trademark Trial and Appeal Board (TTAB) has held that the New York Yankees Baseball Club has a protectable interest in the term EVIL EMPIRE as used to identify the team. New York Yankees Partnership v. Evil Enterprises, Inc., Opposition No. 91192764 (February 8, 2013) [not precedential]. The TTAB found that the Yankees' interest in EVIL EMPIRE was a sufficient basis for denying, on the grounds of likelihood of confusion and false suggestion of a connection, a third party's trademark application for BASEBALLS EVIL EMPIRE.
On July 7, 2008, Evil Enterprises, Inc. applied to register with the U.S. Patent and Trademark Office (USPTO) the mark BASEBALLS EVIL EMPIRE as intended for use with clothing, namely, shirts, t-shirts, sweatshirts, jackets, pants, shorts and hats. The USPTO subsequently published the application for opposition, and on November 20, 2009, New York Yankees Partnership (NYP) filed a notice of opposition to the application.
NYP owns the well-known New York Yankees baseball team founded in 1903. NYP also owns a number of trademarks, including NY (Stylized) and YANKEES and Design (both shown below).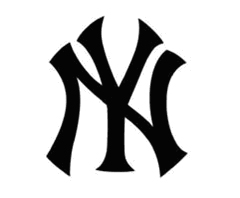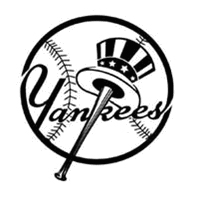 NYP has registered those marks with the USPTO as used with a wide variety of goods, including the same clothing items listed in Evil Enterprises' application. Through Major League Baseball Properties, its licensing agent, NYP has extensively licensed its marks for inclusion on apparel, posters, toys, and other types of goods sought by sport fans and sold over the Internet, in official team stores, and through national retail chains. Since the year 2000, NYP's sales of merchandise promoting the Yankees have exceeded $1.1 billion.
NYP introduced evidence that, in 2002, the president of the rival Boston Red Sox coined the term "evil empire" to refer to the New York Yankees and that Evil Enterprises knew the term referred to the Yankees. NYP also showed that although it had never used EVIL EMPIRE as a mark, the Yankees had, in effect, adopted the nickname, including playing ominous music from Star Wars at baseball games. Based on the evidence of record, the TTAB found that NYP had standing to oppose Evil Enterprises' application.
NYP alleged three bases for its opposition: disparagement and false suggestion of a connection under Section 2(a) of the Trademark Act, 15 U.S.C. § 1052(a), and likelihood of confusion under Section 2(d), § 1052(d). The TTAB discussed the confusion issue at some length, analyzing it under the factors laid out In re E.I. du Pont de Nemours & Co., 476 F.2d 1357 (CCPA 1973).
First, the TTAB said that in the likelihood-of-confusion context "a party need not have actually used a mark if the public nevertheless associates the mark with the goods or services of that party" (citing Big Blue Prods. Inc. v. Int'l Bus. Machines Corp., 19 USPQ2d 1072, 1074 (TTAB 1991)). The TTAB noted that NYP had introduced "hundreds of news articles, stories, and blog entries, as well as admissions by applicant, demonstrating that the term EVIL EMPIRE is widely used as a shorthand reference or nickname for the New York Yankees baseball club."
Next, the TTAB held that EVIL EMPIRE is famous and therefore a strong term, at least "in the world of baseball," for identifying the New York Yankees. The TTAB found that Evil Enterprises' goods were identical to the relevant goods of NYP and that under the du Pont factors BASEBALLS EVIL EMPIRE was similar to EVIL EMPIRE. Thus, the TTAB held that NYP had demonstrated likely confusion between the two marks. The TTAB rejected Evil Enterprises' parody defense, quoting Columbia Pictures Indus., Inc. v. Miller, 211 USPQ 816, 820 (TTAB 1981) for the proposition that "[t]he right of the public to use words in the English language in a humorous and parodic manner does not extend to use of such words as trademarks if such use conflicts with the prior use and/or registration of the substantially same mark by another."
Turning to NYP's allegation of false suggestion, the TTAB laid out the relevant factors: (1) applicant's mark is highly similar to opposer's previously used name or identity; (2) applicant's mark would be recognized by purchasers as pointing to opposer; (3) opposer is not connected with applicant's relevant goods; and (4) opposer's name or identity is so well known that purchasers would presume a connection between opposer and applicant (citing Boston Red Sox Baseball Club LP v. Sherman, 88 USPQ2d at 1593; other citations omitted).
The TTAB held that the two "EVIL EMPIRE" marks were essentially identical, that Evil Enterprises' mark clearly pointed to the New York Yankees, and that there was no evidence of any connection between the parties. Finally, the TTAB held that "consumers, upon seeing applicant's mark, BASEBALL EVIL EMPIRE, on clothing, would be likely to assume that these goods are connected with the Yankees baseball club when there is no such connection." Accordingly, the TTAB ruled in favor of NYP on the issue of false suggestion of connection.
However, the TTAB held that NYP had not proven that BASEBALLS EVIL EMPIRE disparaged the New York Yankees. The TTAB noted the evidence showed that a number of Yankees fans "have adopted the EVIL EMPIRE moniker as a 'badge of honor' so that it now has a 'positive connotation' among Yankees' fans." The TTAB also noted the evidence showed the Yankees had "implicitly embraced" the EVIL EMPIRE designation, which "undermines [the] argument that use of BASEBALLS EVIL EMPIRE disparages the Yankees." Accordingly, the TTAB rejected NYP's allegation of disparagement.
Having found for NYP on two of its three allegations, the TTAB sustained the opposition to the application for BASEBALLS EVIL EMPIRE. It remains to be seen whether Evil Enterprises will appeal the TTAB's decision and whether NYP will apply to register EVIL EMPIRE with the USPTO.
Marine Shipping: A Growing Industry Going Green

Melissa A. Hamann
 
From a technology standpoint, there's good environmental news and bad environmental news from the marine shipping industry. The good news is that cargo vessels are today's most emission-efficient mode of trade transport, emitting far less carbon dioxide and other greenhouse gases (GHGs) than all other forms of cargo carriage. For example, an airplane traveling the same distance and carrying the same weight of cargo will cough up anywhere from 25 to 36 times more carbon dioxide than a cargo vessel.
But because global shipping carries 90 percent of the world's trade, the bad news is that its carbon footprint is quite large. Marine shipping is responsible for over three percent of the world's carbon dioxide emissions—equal to the total emissions of Germany and 50 percent more than the total emissions of air travel. Marine shipping's carbon footprint, therefore, comes in a dinosaur-shoe size, and scientists predict that as annual seaborne trade continues to increase, such emissions could triple by 2050.
Thus, the marine shipping industry faces the tough challenge of lowering its emissions even further. In July 2011, the International Maritime Organization (IMO), a U.N. agency, adopted the first global and legally binding climate agreement for an industry sector since the Kyoto Protocol: a new chapter to Marine Pollution (MARPOL) Annex VI that includes a package of mandatory technical and operational measures to reduce GHG emissions from international shipping. The aim is to improve the energy efficiency of ships through improved operational practices as well as through improved design and propulsion techniques. 
Effective January 1, 2013, new ocean-going ships displacing over 400 tons must improve their efficiency by 10 percent. Starting in 2020, new ships will have to be at least 20 percent more efficient than today's new ships; and after 2024, new ships will have to be at least 30 percent more efficient. An exception is built into the MARPOL agreement under which developing countries may waive compliance until 2019. 
Reducing GHGs is a function of several factors such as steaming at slower speeds, using alternative fuels such as bio-diesel, managing in-port traffic, using larger ships to transport cargo, and reducing shipboard energy consumption by optimizing systems, including propulsion. Reducing GHG emissions through operational methods, however, can be impeded by contractual limitations (i.e., bills of lading requiring fast delivery of cargo) and many other economic and practical considerations.
The IMO concluded, correctly, that reliance on operational initiatives is an important step but one that cannot fully achieve the desired reduction in GHGs. The same is true for economic incentive programs such as requiring shipping firms to pay a "carbon price" associated with their emissions. Those programs help but by themselves are not sufficient.
Ultimately, technology will play the biggest role in reducing GHG emissions. Technological options for more efficient ships include larger ship sizes, hull and propeller optimization, more efficient engines, and novel, low-resistance hull coatings such as special polymers or even air bubbles.  For example, a single large ship with the same cargo capacity as two smaller ships weighs less than the two ships combined and has less hull area in contact with the water. The "less-hull" feature lowers the ship's resistance in the water, thereby lowering the energy required for propulsion, which in turn lowers GHG emissions.
Unfortunately, canal widths, harbor depths and port cargo-handling equipment limit the industry's ability to increase the size of cargo ships. Further gains can be made by optimizing hull and engine design.  Ships could also make use of combined-cycle diesel engines that transform waste heat into useable energy. A number of research programs currently are focused on making these improvements.
The IMO anticipates that if fully implemented, the foregoing measures could increase shipping efficiency and reduce the industry's emissions rate by 25 to 75 percent below current levels.  Moreover, by 2020 ship operators could save $5 billion in annual fuel costs and GHG emissions from maritime shipping could be lower by 45-50 million tons per year. 

The IMO's commitment to reducing GHGs is commendable. Still, there is risk involved for companies affected by the new measures. First, the regulations will increase the cost of shipping—compliance does not come cheaply. Second, the regulations present potential legal challenges, not only from various contractual, logistical, and international law applications but also through market demand for the most efficient ships. Such demand could create a patent war as businesses race to develop the required technology. For the prudent company interested in making its mark in the increasingly "green" marine shipping industry, sound legal advice will help navigate the way.